YESS WORKS in BKC- Located at one of the prime locations in Bandra, BKC Annexe, this office space is spread across 9000 sq ft featuring the state-of-the-art infrastructure with all the amenities and supplies available to make your experience worthwhile. Visit the BKC hub, we'd love to host you!
YESS WORKS in BKC provide
Flexible Space –
Get settled in any of our open desk spaces powered by ultra-fast wifi, unlimited coffee and all the essentials to make your work hassle free. With YesssWorks all you need to do is plug and play.
Recommended for:
Startups
Freelancers
Consultants
Fixed Space –
Challenge your regular brick and mortar premise and switch to our Yesss workspace that gives you the freedom to own your private space which comes equipped with high-end tech support.
Recommended for:
Startups
Small Teams
Mid Scale Companies
Cabin Space –
Our beautifully designed cabin space to accommodate your team and offering an environment that's much more conducive to work along with lockers and filing cabinets at your dispense.
Recommended for:
Mid-scale Companies
Satellite Offices
Regional Headquarters
Private Office –
Upgrade and move into your own YesssWorks private suit, located amidst commercial neighbourhood and comes with the option to customize the space in a way that resonates with your brand identity.
Recommended for:
Large Teams
Large Corporations
Primary Headquarter
MEETING ROOM
Our meeting rooms feature sleek conference style tables and plush seating for 8. With its very own projector/ T.V, white board and printer, this room is perfect for your ideal meetings.
It includes:
Seats for upto 8 people
Projector/T. V
Ultra-speed Wifi
Business – class Prints
Coffee – Gourmet style
CONFERENCE ROOM
Our large conference rooms allow for variety of setups for meetings, brainstorming sessions, workshops or retreats. Each come equipped with modern fittings and supplies. Book the space on-the- go through the YesssWorks app.
It includes:
Seats for upto 8 people
Projector/T. V
Ultra-speed Wifi
Business – class Prints
Coffee – Gourmet style
EVENT SPACE
Host your next event at YesssWorks. The perfect place for gatherings, demo nights, speaker panel, launch parties and creative brain storming. Inquire about hosting an event in our open space or, for smaller events, renting our conference rooms, meeting rooms etc.
other coworking space in mumbai
Address: The Residences – BKC Annex, C208, 209, Kanakia Zillion, LBS Rd, Kurla West, Mumbai, Maharashtra 400070
Phone: 090165 06506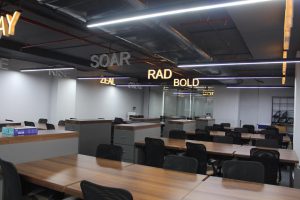 Location
MUMBAI
Login To Write A Review.
Sorry, you don't have permisson to post a review.