WORKBAY in santacruz promises to offer a stress free working environment. A comfortable setting where freelancers and startups can develop their businesses. If you are at the starting point of your career, you most certainly need a flexible working place, with all the amenities provided. Workbay can provide all that, thus all is left for you to do is to stay focused on your work. As a place that promotes collaboration, Workbay provides shared working spaces where like minded people can meet up, work together and bring their innovative ideas to life. The infrastructure of this place ensure that every office tool works smoothly. You can rent a flex desk in the coworking area and work with fellow freelancers. If you want a more intimate environment, you can opt for a dedicated office. Picking these two options means you have to bring your own laptop. The team room is great for larger projects, as desktops and laptops are included in the renting price. There is also a small meeting room available. It provides an excellent setting for skype conferences or interviews. Don't spend too much time thinking, the spaces are limited. You don't want to miss this opportunity!
Facilities provided in WORKBAY in santacruz
Classic Basics

High-Speed WiFi
Air Conditioning

Community

Events
Workshops
Community Lunches
Community Drinks

Equipment

Printer
Scanner
Photocopier

Relax Zones

Outdoor Terrace
Lounge / Chill-out Area

Facilities

Kitchen
Personal Lockers
Event Space For Rent

Cool Stuff

Catering

Transportation

5 Minute Walk From Public Transit
10 Minute Walk From Public Transit

Caffeine Fix
Workbay is a collaborative work-space where we provide you all the tools to help you craft your professional destiny. At Workbay we believe, YOU deserve more than just the bare minimum basics and endeavor to provide you:
– A stress-free and comfortable environment
– A work-space that encourages you to become the best version of       yourself
– A collaborative platform that helps you meet like-minded fellow professionals and build an ecosystem conducive to an exchange of creative energies and innovative ideas.
other coworking space in mumbai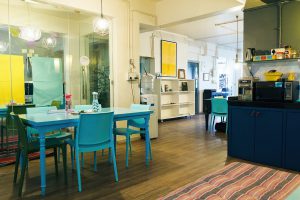 Location
MUMBAI
Login To Write A Review.
Sorry, you don't have permisson to post a review.