triggerxchange-navimumbai,plotno-42:Trigger Xchange provides the ideal shared office space in Navi Mumbai for like-minded individuals, entrepreneurs, start-ups and companies in and around Vashi. this  coworking spaces are the perfect stepping stone for a home-based business before moving to full office rental. You'll be surrounded with like-minded business people, many of whom grow their businesses to such an extent they take a full serviced office option with triggerxchange. It's also a great way to base your business in a prime city location without having to commit to more than one month's rent.
For individuals seeking co-working space in Navi Mumbai, co-working offering is a bit different than others. Yes, you get super-fast leased line internet & LAN, and a high-quality business environment to work in and with us, you get peace of mind that your co-working desk is yours every time. It's not just about getting the basics right – the location, the comfort, the creative inspiration. It's about the extra support. The support of a collaborative community. The support of training, events and wellbeing to keep you inspired. And the support of a team obsessed with doing things better. So swing by to discover your perfect work-life balance.
We provide meeting rooms, conference room, educational events, and development programs to stimulate businesses. We also provide a lounge area and different kinds of work zone set ups to ensure comfortable workspaces to prevent crumbling under the work pressure.
Classic Basics

High-Speed WiFi
Air Conditioning

Equipment

Printer
Scanner
Computers (PCs)
Here we constantly endeavor to create a liberal atmosphere to become a second home for our visitors, we offer working environment ideal for meetings, synthesis of ideas and brain storming. Alternatively, with us you can always find ways and time to socialize, relax and revive your mind.
Phone: 098201 08200
other coworking space in mumbai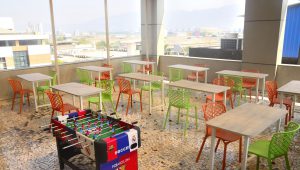 Location
MUMBAI
Login To Write A Review.
Sorry, you don't have permisson to post a review.