PLUG N WORK in vileparle is a co-working space designed with a freshness and vibrancy conducive to encouraging the entrepreneurial spirit and sowing the seeds of originality and ingenuity. Established in 2019, our vision and mission is to create a fun-loving culture for entrepreneurs, start-ups, and freelancers to grow cohesively in a well-equipped and maintained environment.
Keeping in mind the different needs of ever-growing businesses, we have created dedicated spaces to match your line of work. We aim at making you feel relaxed and focused on your work, while you interact and network with like-minded individuals.
Whether you are just looking for a space to put on your headphones and grind and focus, or are a mobile worker, at-home employee, start-up group, or organization, you can simply plug in your laptop and get to work!
Amenities:
Classic Basics:
High-Speed WiFi                                                                                                                                                                                       Air Conditioning
Community:
Events
Facilities:
Kitchen                                                                                                                                                                                                Personal Lockers
Caffeine Fix:
Free Coffee                                                                                                                                                                                        Onsite Cafe
Be A Part: Connect with an engaging community consisting of the city's finest entrepreneurs and innovators in a comfortable environment. Our carefully curated membership plans will cater to all your needs.
Book An Event:Its open loft environment and strong community, makes it a perfect venue to host varied events.
Visit Here:Because work doesn't have to feel like work. Come visit our space in the heart of VileParle, infused with the energy of the community who has come to call Plug N Work their new home.
Atmosphere of organisation is good,this is what requires.People are talented.Work apart from your work,sometimes also good. PLUG N WORK  gives you the platform to grow and learn and keep growing. Transparency in everything – Price, Services, Terms and Conditions – to start and build a strong relationship based on trust and goodwill. For an individual or a team of co-founders starting up a new venture and are ready to move to an office space with all amenities and facilities set up
Other coworking space in mumbai
Address: Plug N Work 1st floor, 102, Man House, SV Rd, next to Blue Dart Office, VileParle West, Mumbai, Maharashtra 400056
Phone: 077383 58806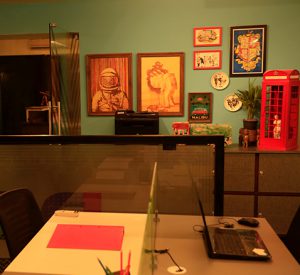 Location
MUMBAI
Login To Write A Review.
Sorry, you don't have permisson to post a review.