HARKAT STUDIOS in andheri west is an international boutique arts studio with a passion for film, new media, community art spaces and contemporary art. Based in Mumbai & Berlin, Harkat takes many forms and identities across disciplines. At the core, we are a collective of passionate storytellers from diverse cultural, business and creative backgrounds. Our core business and expertise lies in film. We create web content, short films, fashion films and digital commercials. A part of our team is also always busy filming and putting together behind the scenes documentation for Hindi language feature films.
Working with Harkat is an experience. We like to engage with our clients meaningfully for each project, to understand their goals and visions and then make them our own. All our clients directly interact and work closely with the artist in charge, and are encouraged to participate and contribute to the process of making videos.
Harkat is also a co-working space for artists and one of the most exciting alternative performance spaces in India.
We also curate experiences and exhibits. You can learn more about the various festivals, curations and other exciting things by exploring the micro websites in the main menu above or on our facebook page.
We support the new, unheard, upcoming, exciting, cutting edge, the political, the forgotten, nostalgic, melancholic, soul stirring, the beautiful & more. And that's what Harkat is. Harkat.
other coworking space in mumbai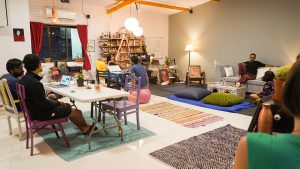 Location
MUMBAI
Login To Write A Review.
Sorry, you don't have permisson to post a review.