EXCLUZO BUSINESS CENTRE-that defines a whole new business paradigm. This world-class Business Centre 1st time in Surat, India provides you an access to fully serviced, furnished offices conforming to the best Standards designed to help you enhance your business efficiency and corporate image in a cost-effective manner.
In today's ever-changing business world, speed and flexibility are vital for success.
It actually works on the true principle of Business Centre. Our name resembles our offerings. This world-class Business Centre in Surat, India is launched with the objective of providing fully serviced, furnished offices conforming to the best Standards designed to help enhance business efficiency and image of our client companies in a cost-effective manner.
managed office-Excluzo Business Centre Managed Office comes with the entire set of facilities and services required to support your business. A Managed office is completely plug and play, and comes with the following features:
Fully furnished establishment – furniture, fixtures & fittings, air-conditioning, pantry.
Professional Administrative Staff.
Communications facilities – Customised Internet connectivity, LAN, EPABX, fax, telephones.
Facility management services – Repair and maintenance of equipment, etc
Housekeeping – Cleaning, etc
Quality, flexibility and transparency are combined in a single space, thus the result is amazing. This share working space gathers professionals, freelancers and entrepreneurs from all industries under the same roof. The quality of services is impeccable at this spaces. Members have the possibility to work in a vibrant atmosphere, surrounded by like minded people. It is a professional, yet fun environment that aims to meet all types of business needs. Enjoy the perks of working in a flexible coworking space, thus you can customize the membership plans to your convenience. Most importantly, transparency is found in every detail, from prices to services.
Address: A- wing, 202-203 Union Heights Rahulraj Mall Lane, Maharana Pratap Rd, Vesu, Surat, Gujarat 395007
Phone: 092270 00202
other coworking space in gujarat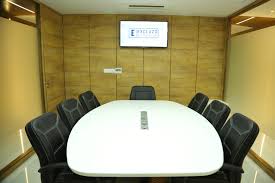 Location
surat
Login To Write A Review.
Sorry, you don't have permisson to post a review.