ECOSPHERE COWORKING in sector 67 The design is what defines Eccosphere, makes it special and unique. We designed the space to allow its occupants to feel comfortable and focused. Our design is based on the Zen philosophy of minimalism and simplicity – celebrating natural materials and visual balance. The interiors are airy and bright with large ceilings and plenty of plant life. Open and connected workspaces sit along with private work clusters and cabins without cluttering the whole design flow.
Classic Basics

High-Speed WiFi
Heating
Air Conditioning

Seating

Standing Desks
Ergonomic Chairs
Hammocks

Community

Events
Workshops
Community Lunches
Community Drinks
Facebook Group for Members
Slack Channel For Members
Mentorship Programs
Community App

Equipment

Dual / Single Monitors
Sound Recording Equipment
Video Recording Equipment
Printer
Scanner
Photocopier

Relax Zones

Nap Room
Yoga Studio
Meditation Room

Facilities

Kitchen
Skype Room
Childcare
Personal Lockers
Showers
Phone Booth

Transportation

Free parking on premise
Bike Parking
10 Minute Walk From Public Transit

Accessibility

Wheelchair Accessibility
24hr member access

Catering

Free Drinking Water
Free Snacks
Catering Kitchen
Snacks Available for Purchase
. Quality, flexibility and transparency are combined in a single space, thus the result is amazing. This share working space gathers professionals, freelancers and entrepreneurs from all industries under the same roof. The quality of services is impeccable at this spaces. Members have the possibility to work in a vibrant atmosphere, surrounded by like minded people. It is a professional, yet fun environment that aims to meet all types of business needs. Enjoy the perks of working in a flexible coworking space, thus you can customize the membership plans to your convenience. Most importantly, transparency is found in every detail, from prices to services.plans are also affordable.
other coworking space in noida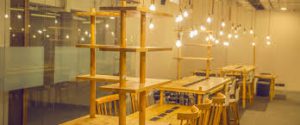 Location
noida
Login To Write A Review.
Sorry, you don't have permisson to post a review.