Coherent co-working space is a well equipped, collaborative corporate space for all the enthusiastic coworkers .budding entrepreneurs in the new heart-throb area of Baner in Pune city. It is an attractive place for work-at – home professionals, independent contractors. it is also for people who travel frequently who end up working in relative isolation. As part of our truely all-inclusive pricing we provide high speed internet connectivity.
Meeting Rooms – 5+ hours of meeting room time per month. also Kitchen – fresh tea / coffee, filtered water, and a refrigerator in our kitchens. Business -Hour Access- 9 am to 8.30 pm, Monday – Saturday .Visiting Hours 10 am to 5 pm daily
SERVICES at Coherent:
COWORKING SPACES
Our flexible month to month commitment provides you the stability of an office. also along with the flexibility you need to grow your business. Best alternative place rather to work in coffee shops and cafes.
CONFERENCE HALL
in our  spaces we provide you an exquisite opportunity to be a part of our 20 seater  Conference hall. Companies , Foreign delegates & any other such parties interested in renting conference hall on daily basis can avail our facility at an additional cost & successfully conduct their minute to minute business meetings all inclusive of our setup with facilities like podium, projector, sound proof system, mike & microphone facility.
COWORKING AMENITIES
Our hectic schedules & constant hard work to achieve something on one side & a short break of tea/coffee @ our open terrace pantry will surely relieve all your stress, It will motivate you to keep moving ahead & encourage new idea with small chat along with coworkers around. Definately a place to chill with coffee in a hand & maintain your work life balance by some stress buster surrounding.
Address: 2nd & 3rd floor, office no. 201-205 'B' wing, above Kotak Mahindra Bank, Signet corner, Baner pune 411045 Maharashtra
coworking spaces in pune
coworking spaces near baner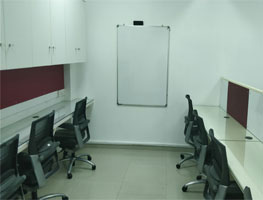 Location
PUNE
Login To Write A Review.
Sorry, you don't have permisson to post a review.