ARTBUZZ in okhla-Aimed at making a creative hub for all kinds of artists, this is just the right platform to launch your career in art. With open houses, workshops and training modules by industry experts, it is the perfect environment to create, network and grow. Artistically intuitive, vibrant and inclusive – That's how we define the Studios.
You may choose either a desk in a common working space or a private cabin at a minimal cost. Studios space has the option of flexi-payment plans to suit the needs of varied artists. Find spaces that suit your style of work with modern amenities, accessible from your home via. metro.
Equipped with complete etching press, hot plate, aquatint machine and acid room, it is the place for you to bring your imagination to reality.
Any art professional can get a workspace at the studios on regular packages & pricing.
ArtBuzz Studios are your coup to interact, engage and evolve at a common space with like minded individuals. Let Art Out and experience the difference of creating with the community.ArtBuzz Studios are non-residential co-working spaces for artists and creative professionals. Facilities include an open plan communal studio space with ten private studios, traditional printmaking facilities and an open-air terrace. We aim to provide a neutral platform for artists in Delhi, energizing Delhi's thriving creative community with special focus on the younger demographic, host exhibitions, talks, workshops and other events.
Atmosphere of organisation is good,this is what requires.People are talented.Work apart from your work,sometimes also good.  ARTBUZZ in okhla gives you the platform to grow and learn and keep growing. Transparency in everything – Price, Services, Terms and Conditions – to start and build a strong relationship based on trust and goodwill. For an individual or a team of co-founders starting up a new venture and are ready to move to an office space with all amenities and facilities set up
other coworking space in mumbai
Address: E49/5, Pocket D, Okhla Phase II, Okhla Industrial Area, New Delhi, Delhi 110020
Phone: 096679 38887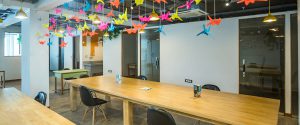 Amenties
Location
noida
Login To Write A Review.
Sorry, you don't have permisson to post a review.