WORK COORDINATES, we thrive to create an ecosystem of people, services, and technology to help our members concentrate on their businesses while we take care of all the groundwork. Sip your coffee at the picturesque Greek Styled Courtyard or brainstorm different ideas in our elegantly crafted workspaces, Work Coordinates is a place you will fall in love with!!
WORK COORDINATES believes in building trustworthy relationships with every member. A team of dedicated professionals is ready to help you with anything you need. You are welcomed to enjoy the benefits of working in a contemporary office, while having access to modern amenities and professional services. You will love this place, especially the community!
Classic Basics

High-Speed WiFi
Air Conditioning

Equipment

Printer
Scanner
Photocopier

Relax Zones

Outdoor Terrace
Lounge / Chill-out Area

Transportation

Catering

Seating

Community

Accessibility

Caffeine Fix
Address: Vikas Center, 106, SV Rd, BEST Colony, Santacruz West, Mumbai, Maharashtra 400054
Phone: 080805 5669
other coworking space in mumbai
WORK COORDINATES functions by a set of well established values. Quality, flexibility and transparency are combined in a single space, thus the result is amazing. This share working space gathers professionals, freelancers and entrepreneurs from all industries under the same roof. The quality of services is impeccable at WORK COORDINATES spaces. Members have the possibility to work in a vibrant atmosphere, surrounded by like minded people. It is a professional, yet fun environment that aims to meet all types of business needs. Enjoy the perks of working in a flexible coworking space, thus you can customize the membership plans to your convenience. Most importantly, transparency is found in every detail, from prices to services.A team of dedicated professionals is ready to help you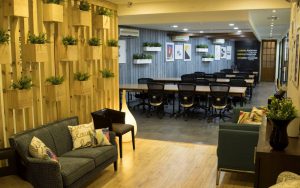 Location
MUMBAI
Login To Write A Review.
Sorry, you don't have permisson to post a review.