ULTIMATE ARENA in andheri on – focused on helping our clients, to build a successful business by providing an excellent co-working space rent along with the necessary services to run their business.
We provide you with infrastructure that your business needs, a 3500 sqft space for your team, open desks, fixed desks, privates cabins, meeting rooms, training rooms, conference rooms and board rooms.We offer a host of free amenities too.
The cowork space is at a prime location in Andheri West and is well connected by public and private and is in close proximity to Carnival Cinemas, many shopping malls, offices, schools and colleges.
Classic Basics

High-Speed WiFi
Air Conditioning

Seating

Standing Desks
Ergonomic Chairs

Community

Events
Workshops
Community Lunches
Facebook Group for Member

Equipment

Video Recording Equipment
Printer
Scanner
Photocopier
Computers (Macs)
Photo Studio
Professional Lighting Equipment

Facilities

Kitchen
Skype Room
Personal Lockers
Event Space For Rent
Nearby Airbnb

Cool Stuff

Dog-friendly
Cat-friendly
Board Games
Darts

Transportation

5 Minute Walk From Public Transit

Catering

Free Drinking Water
Snacks Available for Purchase

Caffeine Fix

Free Tea
Free Coffee
Coffee For Purchase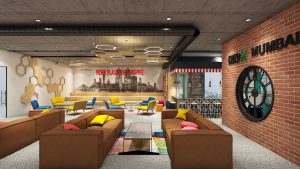 Pricing:
Open desk: Starting Rs. 8000/- per month
Private room: Starting Rs. 20,000/- per month
Atmosphere of organisation is good,this is what requires.People are talented.Work apart from your work,sometimes also good. ultimate arena  gives you the platform to grow and learn and keep growing. Transparency in everything – Price, Services, Terms and Conditions – to start and build a strong relationship based on trust and goodwill. For an individual or a team of co-founders starting up a new venture and are ready to move to an office space with all amenities and facilities set up. Student pack – is yet another initiative from ultimate arena which is beneficial for students who are ambitious for ideas and to convert those ideas to reality.
other coworking space in mumbai
Location
MUMBAI
Login To Write A Review.
Sorry, you don't have permisson to post a review.