THE CIRCULAR SQUARE is A space to experience, share, train and immerse yourself in creative field of arts, be it visual, performing, culinary or literary. In addition, The space also offers a reading space, wi-fi facility and finger food to savor by the side.
A dream setup and destination for live music, plays, workshops, dance, arts/crafts and classes, to name just a few, the possibilities are boundless at our sprawling space.
you need a space just for an hour for meeting or work, or are looking for a dedicated desk/space for longer duration for you/your team to carry out your work or your workshop/regular classes. We have solutions for all these aspects within the sprawling space. We offer hourly/daily plans for our event space to conduct workshops/classes/shows and our exclusive coworking space gives you the option of choosing an open desk, cabin or meeting room on hourly/daily/weekly/monthly basis.
Ambience of our venue has been sought after by facilitators and followers of diverse fields of arts, technology, music, fitness, to name just a few. At The Circular Square you also get access to our well stocked library, tabletop games, wi-fi, a breezy garden and patio to sit back and relax.
THE CIRCULAR SQUARE facilities are:
PROJECTOR
TABLE/CHAIRS
SPEAKERS
SNACKS
BOARD/MARKERS
WI-FI
we also have LIVE PERFORMANCE:
Very few understand the energy, the charm and immediacy a live performance can bring to an audience the way we do at The Circular Square. We understand that as live performers, you have chosen to walk the tightrope without net and you aspire for an audience that is appreciative and undistributed. You get exactly that at our place. As audience, your wish to unwind while experiencing performances of renowned as well as really talented rookies also is assured to be fulfilled at The Circular Square. Our performance space strikes the perfect balance between that rustic countryside feel to the cosmopolitan finesse which sets the stage just right for the theatrical plays, live music, stand-up comedy acts, poetry, dance & fitness sessions that it hosts.
address:24, Doddakalansandra Gubbalala gate, next to Lakshmi Vilas bank, Bengaluru, Karnataka 560062; WEBSITE
other coworking space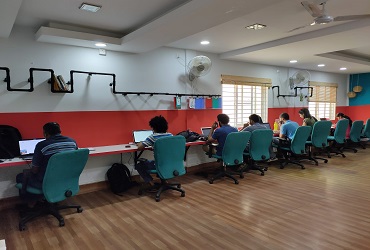 Amenties
Location
bengaluru
Login To Write A Review.
Sorry, you don't have permisson to post a review.