TEAL HOUSE in andheri is Cool & quirky office setup that may be mistaken for a cafe. it's a coworking space that is vibrant, has different themes for different spaces and it even has a mini den to chill. They are in situated in close proximity to Jamjar Diner.
From hot desks to private offices, these paces give you room to grow, offer privacy, with an all-taken-care-of approach. Digital nomads may focus completely on their passion.
TEAL HOUSE in andheri  believes in building trustworthy relationships with every member. A team of dedicated professionals is ready to help you with anything you need. You are welcomed to enjoy the benefits of working in a contemporary office, while having access to modern amenities and professional services. You will love this place, especially the community!
Amenities in TEAL HOUSE in andheri
Classic Basics

High-Speed WiFi
Air Conditioning
white board

Seating

Equipment

Printer
Scanner
Photocopier
Projector

Catering

Free Drinking Water
pantry

Community
Pricing:
Open desk: Starting Rs. 9000/- per month
Meeting room: Starting Rs. 800/- per day
Atmosphere of organisation is good,this is what requires.People are talented.Work apart from your work,sometimes also good. TEAL HOUSE  gives you the platform to grow and learn and keep growing. Transparency in everything – Price, Services, Terms and Conditions – to start and build a strong relationship based on trust and goodwill. For an individual or a team of co-founders starting up a new venture and are ready to move to an office space with all amenities and facilities set up. Student pack – is yet another initiative from hashtag startup which is beneficial for students who are ambitious for ideas and to convert those ideas to reality.
other coworking space in mumbai
Andheri, Bungalow 127, Aram Nagar, 7 bungalows, Andheri W, Andheri, – 400053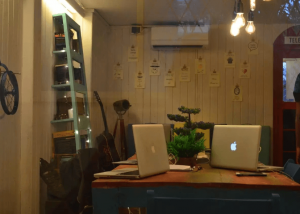 Location
MUMBAI
Login To Write A Review.
Sorry, you don't have permisson to post a review.