SYMMETRY COWORKING in patliputra golumber- The co-working space offers a unique ability of plug n play functionality to early stage startups in Patna who are looking to move in and start their work right away. Symmetry simplifies the co-working ability by offering ready to use facilities which are vital for every startup business.
Symmetry houses some of the great minds who instead of worrying about small problems like internet connectivity and location concerns, can focus on their core competencies and make something unique to be used by billion peoples of India and abroad. The creative atmosphere around is bound to create the spark one needs to give birth to powerhouse ideas.
Classic Basics

High-Speed WiFi
Air Conditioning

Equipment

Printer
Scanner
Photocopier
Computers (PCs)

Facilities

Kitchen
Podcasting Room
Skype Room
Personal Lockers
A team of dedicated professionals is ready to help you with anything you need. You are welcomed to enjoy the benefits of working in a contemporary office, while having access to modern amenities and professional services. You will love this place, especially the community!
Quality, flexibility and transparency are combined in a single space, thus the result is amazing. This share working space gathers professionals, freelancers and entrepreneurs from all industries under the same roof. The quality of services is impeccable at this spaces. Members have the possibility to work in a vibrant atmosphere, surrounded by like minded people. It is a professional, yet fun environment that aims to meet all types of business needs. Enjoy the perks of working in a flexible coworking space, thus you can customize the membership plans to your convenience. Most importantly, transparency is found in every detail, from prices to services.
Address: 103, Devkikunj Appt, Patliputra Anisabad Golumber, Patna, Bihar 800013
Phone: 082105 77247
other coworking space in bihar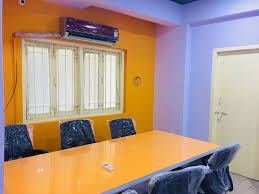 Location
PATNA
Login To Write A Review.
Sorry, you don't have permisson to post a review.