MIQB NOIDA CENTRE in sector58 have virtual office plans which is a great solution to create a professional image for your start-up/established business. It is the creative and functional workspace and co-working space in  noida that you have been looking for! Situated in a beautiful and prime location, it is easily accessible from all parts of the Chennai making it the perfect destination for all your office needs.Our satisfied clients have used the facility for many creative workshops, painting workshops, and training workshops. It is also comfortable for use as a meeting room for sales meetings, club meetings, team meetings and others
Classic Basics

High-Speed WiFi
Air Conditioning

Seating

Standing Desks
Ergonomic Chairs

Community

Events
Workshops
Community Lunches
Community Drinks
Mentorship Programs
Community App
Incubator programs

Equipment

Printer
Scanner
Photocopier

Relax Zones

Outdoor Terrace
Lounge / Chill-out Area
Yoga Studio
Meditation Room

Facilities

Skype Room
Personal Lockers
Phone Booth
Event Space For Rent

Cool Stuff

Pool Table
Table Football / Foosball
Ping Pong Table

Transportation

10 Minute Walk From Public Transit

Catering

Free Drinking Water
Catering Kitchen
Snacks Available for Purchase
Onsite Restaurant
Vegetarian Menu

Caffeine Fix

Free Tea
Free Coffee
Onsite Cafe
MIQB NOIDA CENTRE in sector58 The space is air-conditioned with WiFi, Drinking Water, with Tea/Coffee served twice a day. Co-workers can additionally opt to use the kitchenette as well as B&W printing facility. There are three plans which are suitable for both short-term and long-term use – per day plan, 10 day plan and 30 days or 1 month plan. Plans can also be customized for clients as per their long term requirement.
Growth is directly related to allowing minds to run free, we don't cramp like most offices. MiQB's Noida center is spread on 45,000 sq ft. with dedicated recreational area and support services, giving you freedom to move, choose your habitat and let your mind do what it does best!
other coworking space in noida
Address: C-25, C Block, Sector 58, Noida, Uttar Pradesh 201301
Phone: 098110 50379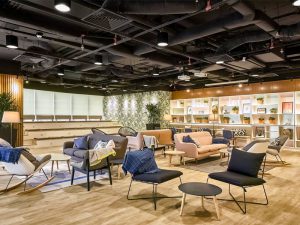 Location
noida
Login To Write A Review.
Sorry, you don't have permisson to post a review.