LOCALE COWORKING CAFE is Nestled in one of our favourite hangout spots a decade ago, this can become your best workspace to hustle from. With ample sunlight, this place boasts of a stunning view.  Crisp interiors and close proximity to Saket metro station make it a space ideal to reach out to in one of those uninspired work days. With a super economical  coworking menu and delicious cash backs and discounts, your hustle has finally got a space to shoot ideas from.
About :
With  get complete access to 50+ locations across Delhi NCR, be it a co-working space or a work cafe. With super-flexi  plans, enjoy the freedom of no monthly rental, no deposit, no lock-in, no expiry. our pass never expires! Use it absolutely any time throughout the year and be charged for only the visits you make. Also, get redeemable  Credits that can be used to pay your food bills at our cafe spaces. Get unlimited, reliable 20Mbps+ internet, office stationery and huge discounts on food
address: 17,2nd Floor, PVR Anupam Saket, Community Center, Ashok Vihar, Saket, New Delhi, Delhi 110017
other coworking spaces in saket
coworking spaces in delhi

Price Plans of LOCALE COWORKING CAFE:

1 Visit Plan: INR 299 in which you get 200 redeemable credits
5 Visits Plan: INR 1299 in which you get 1000 redeemable credits
22 Visits Plan: INR 4999 in which you get 4500 redeemable credits
Open Desk: 15 seater, ₹ 299 /day, ₹ 4299 /month
Amenities: 
Wi Fi: the wifi facility is available to users of the space .
Pantry: pantry facilities are also available here.
Projector: projector is also available for all on demand.
White Board: white board is available for all.
Power Backup: power backup facility is available for all.
2 Wheeler Parking: there are 2 wheeler parking facilities for users of this coworking space.
Security: security facility is also available in our coworking space office.
Reception: reception desk is always present in times of any needs of the coworking space users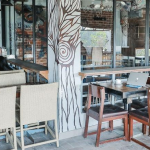 Location
new delhi
Login To Write A Review.
Sorry, you don't have permisson to post a review.