INSTAOFFICE COWORKING- Sector 83 InstaOffice is the best place for "Happy Officing"! People coming together as a community here, will open up new windows of opportunities for you. Working from our coworking spaces and business centers will give you access to a well-networked and vibrant community, regular events, mentor interactions, and much more.
they believes in building trustworthy relationships with every member. A team of dedicated professionals is ready to help you with anything you need. You are welcomed to enjoy the benefits of working in a contemporary office, while having access to modern amenities and professional services. You will love this place, especially the community!
Community Events
Our community is extremely important to us. We hold monthly events with food, games, and tons of fun!
Partner Benefits
With over 70 partners & counting, we ensure our members get the best of discounts from premier companies for hotels, restaurants, HR and legal services.
Meeting Rooms
Whether it's a daily standup, or an interview, we have got you covered with meeting rooms, conference halls, and training facilities.
Quality, flexibility and transparency are combined in a single space, thus the result is amazing. This share working space gathers professionals, freelancers and entrepreneurs from all industries under the same roof. The quality of services is impeccable at this spaces. Members have the possibility to work in a vibrant atmosphere, surrounded by like minded people. It is a professional, yet fun environment that aims to meet all types of bus
iness needs. Enjoy the perks of working in a flexible coworking space, thus you can customize the membership plans to your convenience. Most importantly, transparency is found in every detail, from prices to services.you can modify the planes according to your need.
other coworking space in noida
Address: 2nd Floor, A-224, Noida-Greater Noida Expy, A Block, Sector 83, Noida, Uttar Pradesh 201301
Phone: 099585 63555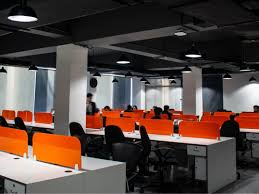 Location
noida
Login To Write A Review.
Sorry, you don't have permisson to post a review.