GO HIVE in sector 48-GoHive VTC is conveniently visible on the 2nd floor, in Vipul Trade Center, Sector 48, Gurgaon. With a seating of 33 seats, hosting 150 communities across center's, you can sure intermingle with the fast paced community. This is the center where GoHive first started its coworking operations. Strategically placed in the VTC business tower, right on Sohna Road, GoHive VTC is buzzing with activities as it's one of the known corporate hubs in Gurugram. The center is well lit with an organized seating layout and is the perfect incubator for your business to grow.
Address: 250, Vipul Trade Center,, Sector 48, Sohna Road, Gurgaon, Gurugram, Haryana 122018
Phone: 070710 00444
other coworking space in haryana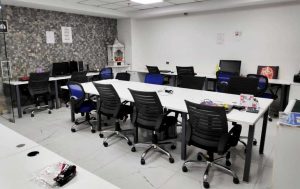 Location
gurugram
Login To Write A Review.
Sorry, you don't have permisson to post a review.