GGARAGE COWORKING in lower parel-garage is a one of a kind coworking space located in Mumbai. It is an inspiring retreat where freelancers, startups and professionals meet, work and develop their ideas together. Working here means having a continuous source of inspiration, thus the creative environment promises to help you be productive. At Garage you can walk in and casually pic an available seat. You can also access available seats at the floating seats or rent a fully furnished private office just for you and your team. The conference room is perfect for meetings, interviews and presentations. Additional amenities consist of a cafeteria, personal lockers, unlimited beverages and print and copy facilities. Garage hosts a beautiful community of young and talented people, who are ready to share their experiences. You will love this office, with its white walls covered by artistic illustrations and inspirational quotes. Garage is the place where like minded people get together and work to bring their dreams to life.
Amenities in GARAGE COWORKING in lower parel
Classic Basics

High-Speed WiFi
Air Conditioning

Facilities

Seating
Garage offers premier infrastructure, accommodating the needs of your team/company/ start-up along with skilled experts providing assistance to help you grow.
Many reputed companies started off in the 'Garage' such as YourStory, ScoopWhoop, Republic TV, Startup Boot Camp Accelerator and 100MB.
At Garage you will thrive in an environment that includes ex Venture Capitalists, Serial Entrepreneurs, Digital Marketing Experts, Investment Bankers and Innovation Visionaries.
Garage aims to provide an experience like none other. Whatever queries you have, feel free to reach out to us.
Address:GARAGE COWORKING , Sun Mill Compound, 210, Senapati Bapat Marg, Lower Parel, Mumbai, Maharashtra 400013
Phone: 082918 15591
other coworking space in mumbai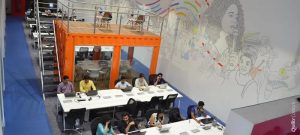 Location
MUMBAI
Login To Write A Review.
Sorry, you don't have permisson to post a review.