COWORK STUDIO in vimannagar-CoWorkStudio is a great place to start a new business, or to grow an existing small business. It's for the hobbyist with a crazy new idea, the moonlighting entrepreneur, or the professional office nomad. It's for developers, designers, strategists, artisans, writers, makers, and change-makers of all types. It's a home for the creative class in Pune.
Bring a laptop or a backpack, but leave your tie at home. Find a place to work for a few hours, or reserve your own desk and chair. Put on your headphones and work undisturbed all night long, or ask a desk neighbor for some advice or grab some coffee at the bar with an advisor. The space is about the people there, and we only ask that you be willing to contribute to the success of the others around.
Classic Basics

High-Speed WiFi
Air Conditioning

Seating

Standing Desks
Ergonomic Chairs

Equipment

Dual / Single Monitors
Printer
Scanner
Photocopier

Relax Zones

Outdoor Terrace
Lounge / Chill-out Area
Nap Room

Facilities

Kitchen
Personal Lockers
Phone Booth

Transportation

Free parking on premise
Bike Parking
5 Minute Walk From Public Transit

Accessibility

Wheelchair Accessibility
24hr member access

Catering

Free Drinking Water
Free Snacks
there offices come with a wide range of amenities that you can pick from; such as an in-house pantry, an executive lounge, 24×7 front desk support and valet parking. With 800+ workstations not only will you get to meet an interesting, diverse, community of people, but will also get to network with them, taking your company to a whole new level. We understand that you may want to work at Workspace without constraints. Our plans are flexible starting from the date you decide to work with us.
Address: 402, Viman Nagar Rd, Marigold complex, Viman Nagar, Pune, Maharashtra 411014
Phone: 090287 77722
other coworking space in pune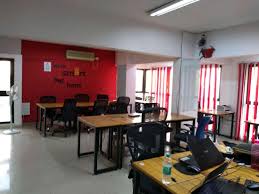 Location
PUNE
Login To Write A Review.
Sorry, you don't have permisson to post a review.