Base Station is an informal, cafe-styled co-working space with open seating, good coffee and ambient music. Located at the artsy Shahpur Jat village in the heart of south Delhi.
Services at Base Station :
Seat and a desk
Spacious seating
2 Internet connections — 75 Mbps and 40 Mbps (load balanced)
Equipped Kitchen
Microwave
Electric Kettle
Bread Toaster
Refrigerator
French Press
Hario V60 Pour Over
Stocked Pantry
(cookies, munchies, cheese, spreads, bread, cold cuts, hot and cold beverages, etc.)
Laser Print + Scan + Copy machine
Essential office stationary
Locker, on request
Inverter backup
Air conditioning
Standing desk
Bean bags
Balcony
In addition to these, we have flexible timings, a great neighbourhood and our own Slack team for office banter and hanging out with fellow co-workers even when away.
If you are visiting Delhi and need a place to work from, or if you wish to try out the place before joining full time, or if you are already a co-worker and wish to have someone over at the office, we are happy to host you free of charge for up to two days.
₹7,000 — a month
₹4,500 — two weeks
₹3,000 — a week
Address
143-A, Second Floor
Shahpur Jat
New Delhi 110049
coworking spaces in delhi
other coworking spaces in shahpur jat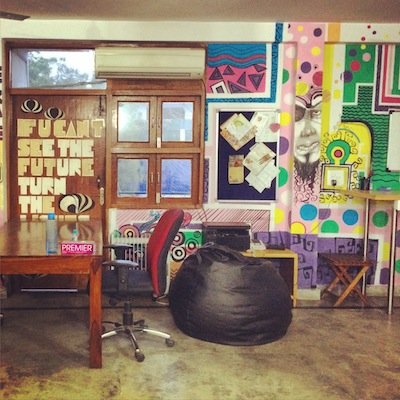 Amenties
Location
new delhi
Login To Write A Review.
Sorry, you don't have permisson to post a review.